IM guest house

〒544-0033
2-7-2 katuyamakita Ikuno-ku Osaka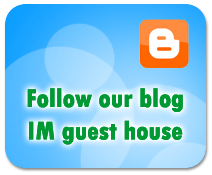 Facilities
Check in 3:00~4:00pm、7:00~9:00pm

Check out 8:00~10:00am
Please let us know if you are late after 9:00pm for your check in.
If you do No Show is canceled your reservation and your deposit is no refund.
Cancelation Policy
No Show 0% refund
1day 75%
2days 50%
3days 25%
We do not have curfew while you are staying IMGH but please be quiet for neighbors after 11:00pm because this area is resident area.
Please NO smoking in the building. We have smoking area on roof top balcony.
Share Faciliteis

kitchen

living room

PC
(WirelessLAN)

washroom

Bathroom

shower room (shampoo & soap included)

washer(charge)
others: rental bike (500yen/day), free dryer


IM guest house
〒544-00332-7-2 katuyamakita Ikuno-ku Osaka
in Japan phone:080‐5317‐9479
out side of Japan phone:81‐80‐5317‐9479
※Please make sure phone number and open hour before you call
reception open hour 8:00~10:00am、3:00~9:00pm

Contact to IMGH »