IM guest house

〒544-0033
2-7-2 katuyamakita Ikuno-ku Osaka
Welcome to IMguest house!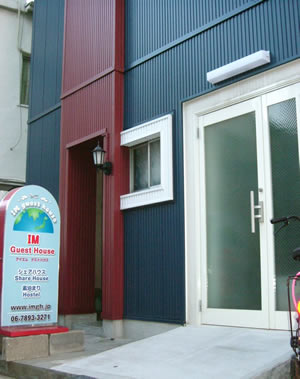 IM Guest House New Open in December 2011 in Osaka, Japan. IM Guest House is an accommodate hostel for all travelers from every counties! In Osaka city, the closest station is on the main train line, which is JR Loop Line, and great location to travel around Osaka, Kansai area… this is where IMGH located. Usually, most of the big cities are similar in every country. What makes it more characteristic is the local area where people actually live. IMGH is located close to a mixed traditional and old-fashioned area. There are arcades called Shotengai (covered roof street) has many types of shops and restaurants with full of mixed Asian, the real Japanese or Japan atmosphere. You may see a real view that how people live in Osaka!!

Helping Staff Wanted!!
Being our staff?! There are lots of chance to use your Japanese skill. Fun cuture exchanging is waiting for you!


<number>
2 males, 1 female
<age>
around 20~36 years old, cheerful, enargetic, and loves people!
<terms>
able to stay more than a month
<working detales>
reception, cleaning, and others
working shift is able to arrange
<treatment>
free staying(no salary)
<require>
able to speak Japanese as conversation level
※send your information below to
our e-mail
, then we will contact you!
・name
・E-mail
・address, country
・phone#
・gender
・age
・cover letter
・photo  

Easy access!
IMGH is located inside of Osaka city so it is easy to go sight seeing everywhere around Kansai area!
Shinsaibashi, Namba

15

min!
Osaka castle, Tsutenkaku

15

min!
Tennoji

3

min!
Kyoto, Nara, Kobe

50

min!
Kansai airport,
Itami airport

60

min!
Also the place where IMGH located is very traditional Osaka town, called Shitamachi, so there are many Osaka culture around IMGH.
For example, there are four public bath!! Have you been to the public bath before?!
It is a big challenge for you but also it is going to be a great memory in your trip!
Other sight seeing spot
There are many more world heritages and a great historical place such as Kiyomizu temple, Arashiyama, Kinkaku temple and so on in Kyoto.
Old capital in Japanese history, Nara.
And then Osaka gives you the greatest stisfy for food and shopping! Kansai is the most exciting area to visit!

Tsutenkaku

Abeno Q's MALL

Dotonbori

Korea Town

Yodobashi Umeda

Kyoto

Kinkaku-ji(Kyoto)

Nara Park
And More, Sky Building Umeda which has a beautiful night view, Osaka catsle has a many important history inside of itself, and Shinsaibashi is for brands shopping and gourmet. Feel free to ask about Kansai to IMGH staff!

空室状況


IM guest house
2-7-2 katuyamakita Ikuno-ku Osaka-city, Osaka
544-0033
in Japan phone:080‐5317‐9479
     phone:090‐8198‐7122
out side of Japan phone:81‐80‐5317‐9479
※Please make sure phone number and open hour before you call
reception open hour 8:00~11:00am、3:00~9:00pm

Contact to IMGH »